LE CONTENTEMENT
Performance radiophonique, 9 mins, 2018
FR_

Pièce présentée en septembre 2018, dans le cadre de la Radio *DUUU bout de la nuit lors de l'édition 2018 du festival du Printemps de Septembre à Toulouse, sur une invitation de Jérôme Dupeyrat. Cette performance a également été présentée en mars 2019 à l'occasion de l'ouverture de l'exposition Première Presse (Épreuve) à Lieu commun - Artiste Run Space à Toulouse, sous le commisariat d'Alex Chevalier.
EN_

Performance performed on September 2018, as part of Radio * DUUU bout de la nuit during the 2018 edition of the Printemps de Septembre festival in Toulouse, at the invitation of Jérôme Dupeyrat. This performance was also presented in March 2019 on the occasion of the opening of the Première Presse (Event) exhibition at Lieu commun - Artist Run Space in Toulouse, curated by Alex Chevalier.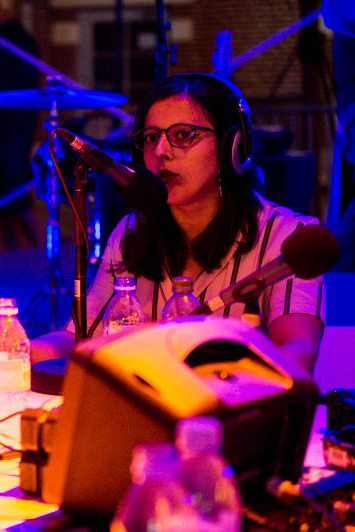 FR_

Synopsis : Une jeune cadre dynamique appelle par téléphone l'une de ses collègues. La discussion commence par une question posée par la jeune cadre dynamique : «Où t'en es ?». Son interlocutrice ne comprend pas cette question et commence à lui parler de son «doute» face au bonheur.

La jeune cadre dynamique ne l'écoute pas vraiment et focalise sur le mot «doute» que son interlocutrice a employé au tout début en l'opposant à la notion de «certitude».
EN_

Synopsis : A dynamic young executive calls one of her colleagues by phone. The discussion begins with a question from the young dynamic executive: «Where are you?» His interlocutor does not understand this question and begins to talk to him about his «doubt» in the face of happiness.

The dynamic young executive doesn't really listen to her and focuses on the word «doubt» that her interlocutor used at the very beginning, opposing it to the notion of «certainty».